Dogs for Adoption
Here are a few of the many dogs available for adoption. Please visit the Animal Shelter in person to see our entire, wonderful selection. For Shelter hours, visit the Adoption page.
JAKE
is a Lab/Chow/Boxer mix with lots of energy. His family moved and couldn't take him. We believe he deserves a second chance to be someone's "forever fur friend!"
JAKE
is now available for adoption at the Whitmore Animal Shelter in Crowley Lake.
PAISLEY
is a lovable 6-month old puppy with a gorgeous brindle coat. She is incredibly sweet and affectionate and just wants to please. She is very intelligent, too!
GROVER (Groovy Rover) is a happy-go-lucky Akita/Black Lab mix. He has a great attitude and should teach classes on life appreciation! In spite of being at the Shelter for almost 2 months, he maintains his sunny disposition and continues to love everyone. Grover is truly a great dog and deserves a second chance.
MISS PIGLET
is a 6-month old Bull Terrier mix. You know the Target dog and Spuds McKenzie? Those dogs are Bull Terriers and are extremely intelligent and sweet, too! The AKC describes the breed as "an exceedingly friendly dog, with a sweet and fun-loving disposition who is popular in obedience, agility and show rings."
CHICA
is a great little gal (about 40 lbs). She's just 7 months old and is already housetrained, is great around children and gets along beautifully with other dogs. Her owners moved somewhere that doesn't allow pets, but they say Chica is the best dog they've ever had. Don't miss out on this opportunity to adopt a terrific ready-to-go family dog!
NINA
is a lovely 1- year old Chocolate Lab/Staffie mix all the way Baja, California. What's better than Mexican chocolate?! She's one of the sweetest, best behaved dogs we've met in awhile and her joyful disposition makes everyone smile.
NINA
is now available for adoption at the Whitmore Animal Shelter in Corwley Lake!
ROSS
is a gentle, happy-go-lucky Rottweiler mix. He's a big boy in search of an able-bodied adopter in the market for a man-sized dog to pal around with.
GAGE
is an 18-month old Shepherd /Saluki mix (built for speed!). He can also jump very tall fences. If you'd like to meet
GAGE
, he is available for adoption at the Whitmore Animal Shelter in Crowley Lake.
---
We've been adopted
!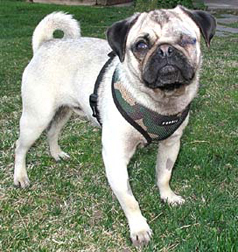 ---