Dogs for Adoption

~Here are a few of the many dogs available for adoption. Please visit the Animal Shelter in person to see our entire, wonderful selection. For Shelter hours, visit the Adoption page.
JACKSON i
s a super sweet American Bulldog mix who arrived at the Shelter with a badly injured front leg. Shelter staff sent an S.O.S. to the ICARE Stitch Fund to pay for Jackson's amputation surgery, which cost $885.50. He is bouncing around on 3 legs like he's been that way forever. He is an affectionate pup with lots of love to give.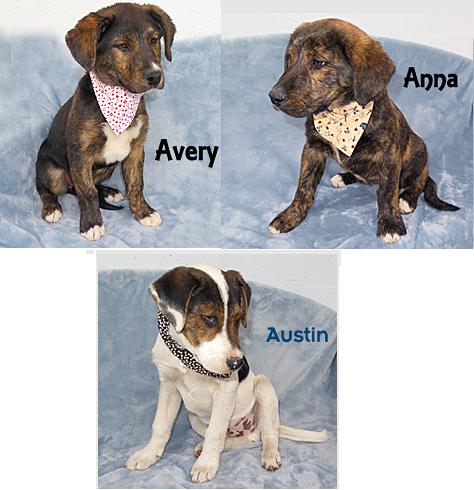 AVERY, ANNA & AUSTIN are adorable littermates with lovely temperaments. They love people and othe dogs, which makes them very adoptable!
OLIVER and KYLE are 9 week-old mixed breed puppies and ready to start the next chapter of their lives with responsible, loving adopters.


SASHA is a 7-month old blue and White Pit mix puppy girl. She is well behaved and quite the little lady! She has beauty and brains. What more could ya ask for?


LUKE is a wonderful 1-year old Black Lab/Border Collie mix. He's housetrained, good with children and other dogs, but his family could no longer care for him. How would you like to adopt a good-natured faithful companion? Luke is your boy!

BENNY is a fabulous 1-year old Black Lab/American Bulldog mix. He walks like a champion on his leash, is good with children and housetrained. In other words, he's ready to settle in with your family from the get-go!

---
W
e've been adopted

!

---