Dogs for Adoption ~Here are a few of the many dogs available for adoption. Please visit the Animal Shelter in person to see our entire, wonderful selection. For Shelter hours, visit the Adoption page.
CASHMERE & COTTON are a couple of Dwarf rabbits in need of a bunny-savvy adopter who knows and appreciates these gentle creatures.
LITTLE DEBBIE is a Chocolate Lab with marshmallow creme filling! She's a real sweetie!
NALA is an adult Shepherd/Lab mix who was brought back to the Shelter 6 years after she was adopted because the adopter claimed "I never really bonded with Nala!" We're looking for someone who will actually take the time to get to know this precious girl and we're just sure the bond will be amazing!
HEMI is a 7-month old Yorkshire Terrier/Chihuahua mix. He's a tough little dude in need of some basic training, but he's still a puppy and ready to learn.
RYKER is an 18-month old black Lab whose family had to make a very difficult decision due to circumstances beyond their control. They tell me that Ryker loves their 5 children and followed them everywhere. He enjoys fetching apples, but balls, not so much. Ryker is also an amazing swimmer following the family in their kayak for miles. Not only that, but he is crate-trained/housebroken and would be an absolutely wonderful addition to any family.
BUDDY is a neutered male about a year old. Sadly, his family could no longer give him the care he deserved and longed for, so they're giving him a second chance through Shelter adoption. He has a loving, even temperament and is a darling boy!
RUSSELL is a 1-year old Labrador mix with the most glorious brindle coat. He's super handsome and very intelligent. Russell is ready to rock 'n roll!
DELILAH is a small black Boxer in need of some TLC. She ended up homeless when her owner could no longer care for her. She's a little over a year and great with children! She's super grateful for any attention show to her. Rescue dogs are very appreciative and we believe they know they've been given a second chance. Delilah will repay you with a lifetime of loyalty and devotion.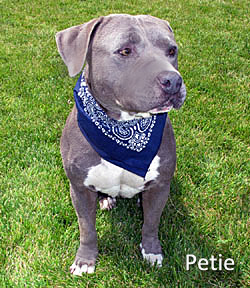 PETIE is an incredibly handsome and affectionate 1-year old, blue and white Pit Bull male. He is a real doll!
NINA is an adorable 2-year old female gold and white Pomeranian. She has blossomed at the Shelter and is ready to start the next chapter of her life — the one where she gets adopted by a soft-spoken, gentle, loving adopter!
BO is a handsome American Bulldog with a heart of absolute gold. He adores children and is a natural born babysitter. Bo is sweet and gentle and ready to become an important part of your family.
Five 4-month old mixed breed female puppies ready for their new homes!
---
We've been adopted!

---