Dot's Blog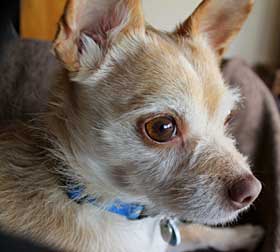 HAPPY NEW YEAR 2014! Yes! This is going to be the year we get a new Animal Shelter and Pet Adoption Center in Big Pine, California. As a former resident of the Shelter (back in 2008), I can say it is much-needed and long overdue. I'm one of the lucky ones who found my forever home and my prayer is that all animals in Shelters everywhere get the second chance I got! If you'd like to learn more about ICARE's "Raise the Roof—a Cause for Paws" fundraising campaign and how you can help, please click here. Wishing you an amazing New Year!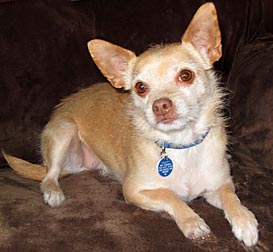 SUMMER 2013 - I'm headed for the 5-year anniversary of my horrible accident. Can you believe it? It was August 2008 when I was hit by the car that broke both of my back legs and landed me in the Animal Shelter. Good thing, too, cuz that was where my life was literally saved thanks to the ICARE Stitch Fund. If it hadn't been for the fund, I would have just been another sad statistic. If you're not familiar with my story, you can start from the bottom of this page and start reading. If you already know me, then I'll just say I continue to count each day as a blessing. For those of you who helped with the cost of my surgery, I am making you proud by being the best little companion to my adoptive family and 4 furry canine siblings. Thank you from the bottom of my heart. You made a difference for a Chihuahua that the world might not have missed one way or another, but I'll tell you, I would have missed out on my amazing life these past five years and, to me, that would have been a tragedy.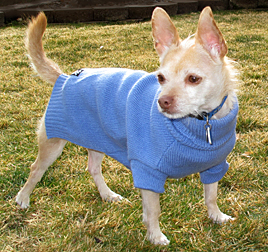 HAPPY 2013
! Yeah, I got a new sweater for Christmas and I'm looking pretty darned cute! I'm luckier than a lot of dogs and I should know because I did some time at the Animal Shelter myself back in the day. Speaking of the Animal Shelter, me and a lot of other dogs, cats and nice folks are praying that 2013 is the year Inyo County will move forward with plans for a new Animal Shelter in Big Pine, California. My mom made a
video
of the Shelter so everyone can see it for themselves. It is an 85-year old block cement dairy barn that was never meant to house cats and dogs and is just not cutting it as a humane animal care facility. If you agree, please contact the Inyo County Administrator at 760-878-0291.

In honor of Dot's 4th Rescue Anniversary, here's a new video of her playing with her canine siblings in the back yard. Hope you love seeing her so happy and active!
Greetings from Ventura, California!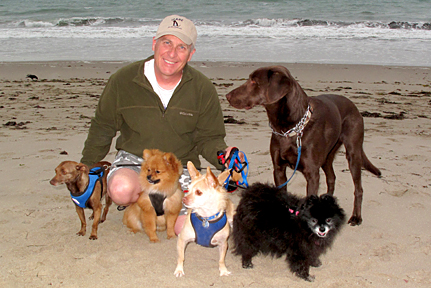 Okay, does it get any better than this?! Here I am with my family (left to right: Zuki, Ferris, me, Mrs. Tiggy Winkle and Beans and, of course, my human dad, Ted) vacationing in beautiful Ventura, California the first part of May 2012. My human dad works very hard — he's the Air Pollution Control Officer for the Great Basin Unified Air Pollution Control District. Anyway, when he takes a much-deserved vacation, chances are about 100% that he will be bringing me and the canine crew along for the fun. How's that for the best dad ever

?
I guess you could say I am living La Buena Vida (the good life!), baby!


Postcard from Mom!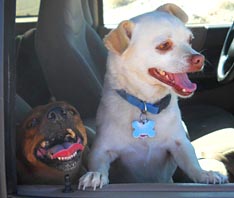 Can you tell by lookin' at this Pug/Chihuahua mix who this might be? If you guessed my mom, you are right. That's my ma, Josie, sittin' there all happy gettin' ready to go for a ride. You're probably thinking to yourself "Dang, good looks sure run in that family!" My ma made an earlier appearance on this blog shortly after I was rescued, she was sprung from a life tied to a fence! Now she's living in Lone Pine with adopters Del and Linda and their other dog, Napoleon. She is getting loads of love and gets to go for fun hikes, walks and rides in the car. I love you mom, and will never forget you. I'm glad you got a second chance, too. Poochie smooches from your daughter, Dot! Stay in touch!

Happy Valentines Day 2012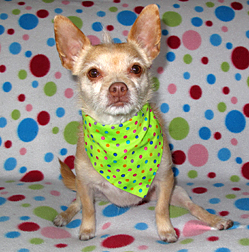 Valentines Day is the day my adoptive parents decided would be my birthday since I was about 6 months old when I was rescued in August 2008, which means I am now 4 years old! How do you like my birthday photo with all the dots? Get it? DOTS! Like me! Yup, I'm pretty lucky to be alive and to be spoiled, too! It blows my little Chihuahua mind! The ICARE Stitch Fund helped me and has helped lots of injured and sick Shelter dogs and cats get the veterinary care they needed to find their adoptive families. I just wanted to say hi to everyone and let you know I'm doing great. Hugs and Valentine Kisses, Dot
Happy New Year 2012!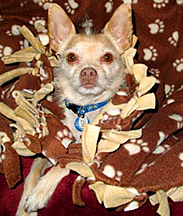 Happy New Year everybody! Of course, every year is happy for me ever since I was rescued from the mean streets of Bishop. Can you believe the dog in this picture (cuddled up in a big, fuzzy blankie) is the same little critter that was running for her life just 3 years ago? Me either! My wish is that homeless pets all over the world will find homes and experience the love of being a cherished family member. Oh, and world peace would be awesome, too! Hey, dream BIG! Love and Kisses, Dottie
Fall 2011 - Lake Tahoe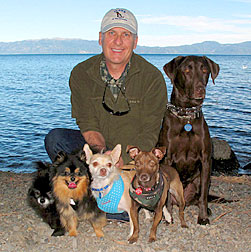 Yipeeee! Spent the last two weeks kickin' it with my homies (Mrs. Tiggy-Winkle, Yogi, me, Zuki, Beans and dad) in Lake Tahoe! It even snowed while we were here — that was lots of fun, too. You wanna know a secret? Every day is a vacation for me, no matter where I am, as long as I'm with my family. Life is pretty awesome!
Dog Days of Summer 2011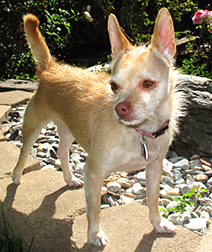 I don't know about you, but I LOVE summer! I guess it's because I'm mostly Chihuahua and we don't really like the cold. I've been doing a lot of sunbathing and counting my blessings. Hey, I just realized it's been three years since I was hit by that car that broke both of my back legs on August 2, 2008. If it hadn't been for the ICARE Stitch Fund, I would have been a goner! Thanks to the donors who helped pay for my surgeries, I survived to enjoy these past three years to the fullest. I do walk kind of funny with my one stiff back leg, but, heck, I can still move pretty fast — just check out my YouTube video (see link at top of page). If you have pets of your own, I hope you are giving them lots of love and appreciating each day you have with one another. I learned (the hard way) that life is truly a gift! Enjoy your summer!

P.S. If you want to send me a message, click on the Guest Book on the left.
---
Spring 2011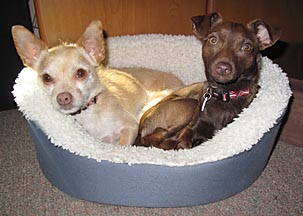 Okay, I admit it. I am startin' to like my new sis, Zuki. I mean, how can I resist the way she cuddles up next to me at nap time? Since she's here to stay, I'm making the best of it.

In other news, I celebrated my third birthday on Valentines Day (that's the day mom and dad picked for me cuz they say I'm their little sweetheart!). Yeah, life is pretty great and I know I hit the jackpot. My prayer is that all homeless dogs (and even cats) can find their forever homes and know the joy of the love that I've found. Amen!

---
December 2010 ~ Happy Holidays?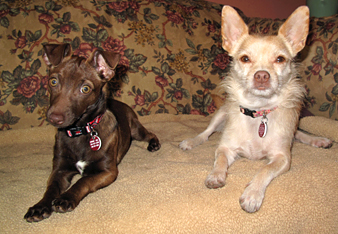 Did I look like I wanted a baby sister? Did anyone bother to ask me if I wanted a lil' sis? Yet, here she is, this creature they call Zuki. She came from the Inyo County Animal Shelter and is a Chiweenie (Chihuahua/Dachshund mix). Just a fancy word for mutt, if ya ask me! Anyway, this whole scene put my tail hairs in a twist, I ain't gonna lie. I thought, "What the heck? Don't mom and dad love me any more?" But, they explained that this pooch needed a home and she wouldn't take up much room or eat much. I decided to give the kid a chance. And, guess what? We're having a blast! Yup, that's right. We're wrestling and zooming around the house and yard like old friends. Looks like I got an early Christmas present, a new friend and sister. And, the best part is, we saved her life.

---
Fall 2010 ~ Tahoe Road Trip!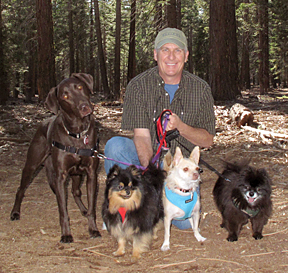 My crew

Hey, it wasn't exactly the "Jersey Shore", but Lake Tahoe in the Fall is pretty awesome, especially since I was hangin' with my homies (mom, dad, Beans, Yogi and Mrs. Tiggy-Winkle). I couldn't quite get my cow-lick to form a "Snooki Poof", but lots of people tell me I'm cute anyway. I still can't believe how my luck has changed. You could make a difference for a dog or a cat like me by adopting your next pet from the animal shelter near you. Just do it!

---
August 2010 ~ Two Years!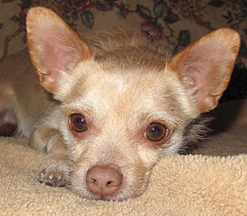 Well, I had my back legs x-rayed at the Bishop Vet Hospital last month and Dr. Lind says everything has healed up just dandy. Can you believe it was two years ago this month that I was hit by that big, scary car? Mom and dad call me their "Little Survivor." I don't now what that means. I just know their eyes get all wet when they say it. I think it means they love me. I'm just one little dog that the world wouldn't have missed one way or the other. But, I'm sure glad I got to hang around and have lots of adventures with my new family! xoxo until next time ~ Love, Dot

---
June 2010 ~ Just sayin' hi!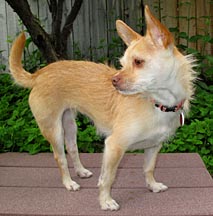 You'll never guess what I did! I went to the beach (San Clemente) with my awesome family for two terrific weeks. We went for lots of walks. I even saw the Amtrak train, which was very scary and loud! My back legs have been bothering me lately and some days they are extra stiff and sore. I'm going to get some more x-rays to see if there's something going on that can be fixed. I know I'm lucky to even be alive, let alone walking, so don't get me wrong. I have a great life now and I will always be grateful to everyone who helped me with my surgeries. xxoo Always and forever, Little Dot

---
Spring 2010 - Something to Make you Smile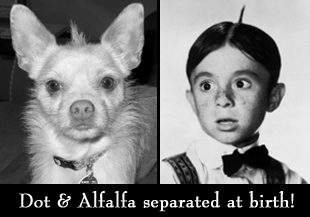 Mom and dad usually tame my unruly cowlick with lots of head petting, but here I am waking up with "bed head" and, of course, it turns into a Kodak moment! I happen to think I'm much better looking than this Alfalfa character, don't you?

---
Winter 2010 - Update from Dot!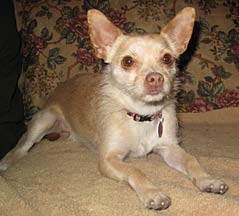 Sometimes I wake up, look around at my cozy surroundings and my doggy brothers and sisters, and I can't believe it isn't a dream. Life just keeps getting better and better. I turned two on Valentines Day 2010 and everyone tells me I'm a survivor and lucky to be alive. Well, I know that! I wouldn't be here if it weren't for the nice people who helped pay for my surgeries. I could have been a goner! But, you guys came through for me Big Time! I just want you to know how happy I am and thankful for my second chance. Big kisses to you all! xxoo

---
Spring 2009 - Message from Dot
They say ya gotta take the bad with the good and that's the truth! I've got all the toys a dog could dream of and get to go for daily walks with my super cool dog sisters and brothers. But, every once in a while, mom and dad decide it's "B. A. T. H. Day" (they always spell it, but I'm startin' to figure out it means I get all soapy and they get all happy). I really do love it here and I can't ever remember being so loved and cared for. Thank you to everyone who helped me get all better and didn't give up on me.
---
Winter 2008 - Dot loves her new home!
Here's Dot with her new dad, Ted Schade. These two are pretty much inseparable. After the evening walk with all the other dogs, you'll find Dot wrapped in her blankie snuggled on Ted's lap. She continues to inspire us with her incredible joy for life. If you'd like to send Dot a note, click on the Guest Book on the left and drop her a line. We'll make sure she gets it.

---
December 2008 ~ Happy Holidays!
Well, it was bound to happen. Dot has finally been adopted ... by her foster parents, Ted and Lisa! Yes, it's true. After four months as part of their family, the Schades decided to make it official and have adopted Dot as one of their own. We know one little doggie who will have a very Merry Christmas this year. Hope your holidays are filled with magic and happiness. If you'd like to make a donation in honor of family or friends, ICARE is a great organization that helps many pets in need.

---
November 19, 2008 - Back to the Operating Room
Just when we thought Dot's surgeries were all behind her, another complication arises. The wire stabilizing the bone on her left back leg broke through the skin and, man, was it sharp! So, back to the Bishop Veterinary Hospital today, where Dr. Cheryl Chong performed surgery to remove the offending wire and, at this point, unnecessary pins. Dot is an amazing dog and accepts the cards dealt to her with a "just glad to be alive" attitude. She's resting comfortably at Ted and Lisa's house.
---
October 2008 - Lazy Days of Autumn
Where's Waldo? I mean, where's Dot? She practically disappears in the golden leaves. Here she is enjoying the fresh air and sunshine on a lazy afternoon. Dot's a typical pup — running full blast one minute and snoozing the next. She seems to have fallen for Beans, our resident Chocolate Lab (he was born at the Inyo County Animal Shelter 3 years ago). It's pretty hilarious to see tiny little Dot and big ole Beans wrestling and horsin' around. Dot would do just fine in a home with other dogs.
---
October 9-18, 2008 ~ Lake Tahoe
Lucky little Dot! She got to go to Lake Tahoe with her foster parents, Ted and Lisa (and their 3 dogs). She is the greatest traveler. She hunkered down in her travel kennel and didn't make a peep the entire 4-hour drive! She has fully recovered from her injuries and went for long walks each day with the gang. She's enjoying being a real puppy again and is a very joyful creature. We are still looking for a loving home for this very deserving dog.
---
October 4, 2008 - Look Who's at the Shelter!
That's Dot's mom, Jessie! She was turned over to the Animal Shelter last week after a Good Samaritan reported her being tied to a fence 24/7. The owner turned her over to Animal Services and she was placed up for adoption. Jessie has already been adopted by a family in Lone Pine.
---
October 3, 2008 - Ready for Her New Home
It's been 7 weeks since Dot's first surgery and she is doing great. She loves to play fetch and she can move pretty darned quick, too. She was the featured Pet of the Week in the Inyo Register newspaper on October 2. Unfortunately, there were only a couple of calls from folks asking about her. Dot is housebroken, gets along with other dogs and LOVES people! And she is just so darned sweet.
---
September 2, 2008 - Big Week Coming Up
On Monday, September 22nd, Dot is going to the Bishop Veterinary Hospital for her spay surgery and more x-rays of her back legs to see how the bones are mending. She has the survivor spirit and the heart of an angel. This sweet dog thoroughly enjoys life and her joy and enthusiasm are an inspiration to all who meet her. She will probably always have a slight limp, but she is not handicapped by any means. Her little hippity-hop just makes her that much more endearing.
---
September 13, 2008 - Dot's Public Appearance
Dot made her public debut at Inyo County Animal Shelter's off-site adoption event at K-Mart on Saturday, September 13th. She was featured along with several other Shelter dogs in need of homes. It was a great way for folks to meet the terrific pets available for adoption from the Animal Shelter. Unfortunately, it looks like Dot is still searching for her forever home ....
---
September 9, 2008 - Check-up at Bishop Vets
Dot had an appointment at the Bishop Veterinary Hospital this afternoon.
Dr. Carl Lind
removed the staples from the revision surgery on her right back leg. On Friday, September 5th, one of the pins had worked itself out and through Dot's thigh. She was rushed to the Bishop Vet Hospital where Dr. Craig London cut the pin off as close as he could. Today, Dr. Lind was able to tap the pin back into the bone so it is no longer protruding and irritating her skin. Dr. Lind says Dot is a very sweet dog, especially under the circumstances! He also says she is healing great and we can schedule her spay surgery in a couple of weeks. Thanks Dr. Lind!

---
September 3, 2008 - Doing Better Today
Dot wants everyone to know that she is feeling much better today and her back legs are healing great. The right back leg that was surgically corrected on August 14th is doing awesome and she is using it as her weight-bearing back leg. The left back leg that had revision surgery on August 26th is looking good, too. She's not supposed to put any weight on it and she hasn't been. She gets the left back leg staples removed next Tuesday at Bishop Vet Hospital. Dot has been a little trooper throughout the entire process. She loves her little "dottie dog bed" and is enjoying all the cuddles and attention from her foster parents.
---
August 29, 2008 - From Reno to Bishop
Sheri Bryant drove all the way to Reno to pick Dot up at the Veterinary Specialists of Nevada on August 29th. Dot's revision surgery by Dr. Regina Schroeder on August 26th went very well and her prognosis is excellent. She needs to stay pretty quiet for the next six weeks to ensure complete healing.
This x-ray shows the revision work. The Veterinary Specialists of Nevada are "dedicated to the health and performance of your pet" and they have definitely come through for Dot! They performed all of her surgeries at a greatly discounted rate and we are very grateful for their generosity and compassion.
---
August 26, 2008 - Revision Surgery Today
Dr. Regina Schroeder of the Veterinary Specialists of Nevada performed revision surgery on Dot's left leg. They performed a tibial tuberosity and elevated the quadriceps muscle with an implant. The femur had to be shortened a centimeter or two and new pins were used to join the femur with the broken piece. Dot is resting comfortably and being spoiled by hospital staff who have all fallen head over heels for this valiant little trooper! Dot will be released on Friday, August 29th, and return to Bishop where she will be staying with her foster parents, Lisa and Ted Schade.
---
August 25, 2008 - Back to Reno
Katie Bird, Inyo County Shelter Attendant, once again volunteered to transport Dot from Bishop to Reno on Monday, August 25th. Dot is scheduled for revision surgery on her left leg on Tuesday, August 26th at the Veterinary Specialists of Nevada. As soon as we receive word from Dot's surgeon, an update will be posted. In the meantime, a ride has been secured for Dot from Reno to Bishop on Friday, August 29th.
---
Update - August 2, 2008 - Minor Setback
Dot went to the Bishop Veterinary Hospital on August 21st for her one week post-op checkup and bandage change. Dr. Cheryl Chong observed swelling of Dot's left leg and ordered an x-ray.
The good news is: Dot's right leg is healing great. The bad news is: the surgery on Dot's left leg failed and she is scheduled for revision surgery in Reno at the Veterinary Specialists of Nevada this coming Tuesday, August 26th. We have a ride for Dot from Bishop to Reno, but we need to get Dot from Reno back to Bishop on Wednesday, Thursday or Friday (August 27, 28 or 29). If anyone will be traveling from Reno to Bishop on any of those days and can transport our brave little patient, please call Lisa at 760-872-3802.
---
August 18, 2008 - Dot's Story
Dot is a dainty Chihuahua mix who landed in a heap of trouble a couple of weeks ago. She was in heat and being chased by male dogs (spay and neuter your pets, people!). In an effort to escape her pursuers, she ran right into traffic on Line Street and was hit by a car. Both of her back legs were badly broken and she was rushed to the Bishop Veterinary Hospital where she was made comfortable while waiting for her owner to come forward.
The owner made contact and decided to relinquish Dot to Inyo County Animal Services (ICAS) at which time, a plan was set in motion for Dot's injuries. ICAS contacted ICARE to ask if the ICARE Stitch Fund would pay for Dot's corrective surgery. Of course, the answer was "yes!" Dot's x-rays were then sent to the Veterinary Specialists of Nevada in Reno who agreed to perform surgery on Dot's broken legs. Shelter Assistant, Katie Bird,stepped up to transport little Dot to Reno (and actually came up with her new name). Katie left her in the capable hands of the skilled specialists and Dot had surgery on August 14th. The following day, Animal Services Officer, Nancy Smith, volunteered to drive to Reno to pick up the tiny patient and bring her back to Bishop, where she is now being fostered by Ted and Lisa Schade.
Dot is an amazing little survivor and has maintained her sweet disposition throughout her painful ordeal. Her cast will be removed in 3-4 weeks and she will be x-rayed again in 6 weeks to evaluate her healing.
Oh, and if you'd like to help with the cost of another special needs Shelter animal like Dot, donations to the ICARE Stitch Fund are always welcome and make a huge difference in the life of a deserving pet.
---