Programs & Accomplishments
Programs - For printable information sheet, click HERE.
Low-Cost Spay/Neuter Fund - To prevent the birth of unwanted litters, ICARE, in cooperation with our local veterinarians, provides financial assistance for pet owners who would otherwise be unable to afford vital spay/neuter surgeries for their pets.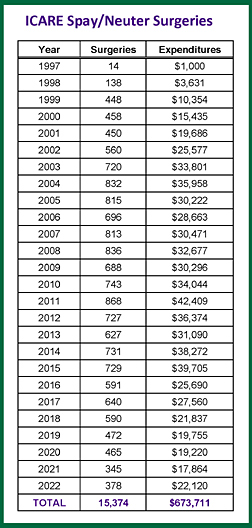 Feral Cat Trap, Neuter & Return (TNR) - ICARE pays for feral cats to be spayed/neutered and returned to their territory. This stabilizes the colony and is the humane answer to the feral cat challenge.
Stitch Fund - The ICARE "Stitch Fund" pays for ill or injured Inyo County Shelter animals to receive the veterinary care they need to recover and find loving homes. Visit our special page to learn more about this unique fund and how it helps animals in need.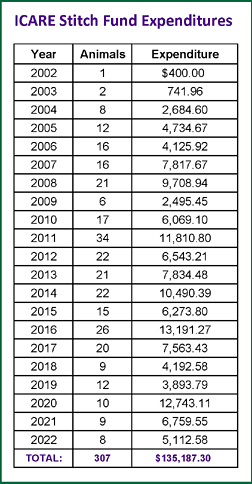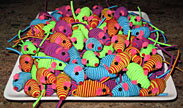 Happy Pet Fund - This fund was established in honor of Pat Nahin and enhances the well being and enriches the environment for cats and dogs during their stay at the Inyo County Animal Shelter by providing toys, treats and other items of comfort and joy. The Happy Pet Fund has helped purchase 30 Kuranda dog beds for our Shelter dogs!
Accomplishments
ICARE provided hundreds of volunteer hours and funded $35,000 in improvements to the OLD Inyo County Animal Shelter in Big Pine since 1997. We significantly increased the OLD shelter's capacity, as well as improved living conditions for the animals by installing indoor and outdoor dog kennels and stainless steel cat kennels. But, that was then and this is NOW! The animal-loving community helped us raise an incredible $416,000 of the $800,000 Inyo County needed to build a new Animal Shelter and Pet Adoption Center in 2015. Construction began in August 2014 and the Grand Opening took place on July 11, 2015! If you'd like to see photos of the Grand Opening, click here. Visit our Shelter Campaign page for more info.
♥ In the past 26 years, ICARE has spent $680,000 on 15,645 spay/neuter surgeries for cats and dogs in need. All from donations - ICARE receives no government funding and has no paid employees. This has prevented the birth of thousands of unwanted kittens and puppies. Consequently, Inyo County Shelter impounds (strays and owner turn-ins) have decreased 54% (1,164 in 1995 to 527 in 2022).
♥ ICARE's promotion of Inyo County Shelter animals for the past twenty years increased adoptions by 411% (from 82 in 1996 to 337 in 2022).
♥ Most importantly, as a direct result of all of ICARE's animal welfare programs, especially preventing the birth of thousands of unwanted kitties and puppies through our spay/neuter outreach, the number of cats and dogs euthanized at the Inyo County Animal Shelter has dropped an amazing 98% (from 1,784 in 1995 to 37 in 2022).
Of course, none of this would be possible without the incredible support of our faithful members and donors. ICARE receives no government funding and, because ICARE has no paid employees, your gifts go directly to help animals in need. Thank you!

---